The worst day of golf still beats the best day of work.  The members of the Golf Course Superintendents Association of America (GCSAA) feel the same way.  The GCSAA works to provide a voice for those who professionally manage golf courses.
Our crew went behind the scenes with GCSAA at the Golf Industry Show–an event that connects the best golf industry, professionals.  You can learn new golf tricks at the convention that help you advance your career. Maybe you could be the next Tiger Woods!
"Connect. Discover. Elevate." – The Golf Industry Show
Audio tech, Warren Wolfe, snagged these awesome photos of the convention to give you a sneak peak of what you would be missing if you don't attend.  You get to learn from the top researchers, superintendents, and equipment managers in the industry. All in all the convention provides 420+ hours of education.  
Not to mention, cute puppies are always a plus.  GCSAA partnered with Flyaway Geese to give four contest winners a fully-trained goose puppy for their course.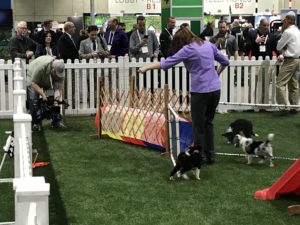 The countdown begins for the 2020 Golf Industry Show in Orlando.    For more golf shoots, click here!